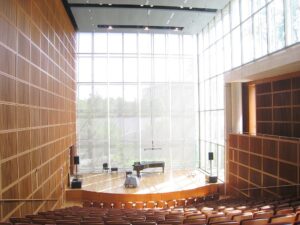 Alleged Abuse, Financial Strain, and Questions of Leadership Threatens CIM's Reputation
By
Chris Ruel
According to an in-depth report by VAN Magazine, the Cleveland Institute of Music (CIM) is grappling with multifaceted challenges, jeopardizing its ambition to establish itself as a leading, tuition-free conservatory à la Philadelphia's highly selective Curtis Institute.
The appointment of conductor Carlos Kalmar as the director of orchestral studies has spiraled into controversy, marked by persistent allegations of abusive behavior, particularly towards female students, leading to student and faculty protests. Kalmar's alleged conduct prompted a Title IX investigation, which saw the suspension and subsequent departure of its lead, Vivian Scott. An independent investigation failed to gather sufficient evidence against Kalmar, leaving concerns unaddressed.
Kalmar's allegedly harsh and discriminatory demeanor, coupled with accusations of students being overworked to the point of injury, has amplified dissatisfaction within the CIM community. The VAN Magazine report highlights instances of Kalmar berating students and fostering an environment where gaining his approval seemed unattainable.
His leadership in the "Orchestra 2.0″ initiative, an intensive program aimed at elevating CIM's standing, has come under scrutiny, with critics pointing out the contrast between the demanding nature of professional orchestras and the nurturing environment expected in an educational setting. A faculty member's account underscores this disparity, describing Kalmar's approach as predominantly negative and lacking constructive instruction.
Meanwhile, CIM is navigating a precarious financial situation, marked by a projected $600,000 deficit, high staff turnover, and a series of layoffs. The financial instability follows a significant increase in President Paul Hogle's salary and nonprofits wanting to steer clear of the troubled conservatory. CIM was to receive two substantial grants but was passed over. According to VAN, while CIM received $70,000 from the Ohio Arts Council for FY 2022, the institution is not listed among its 2024 grantees.
The administrative leadership, including Hogle, Provost Scott Harrison, and Kalmar, faces mounting criticism for their orchestra administration background, raising questions about their educational proficiency and the institute's commitment to sound educational foundations.
"The kids seemed beaten down. The music-making is not good. The experience is unpleasant," stated a faculty member in VAN's report.