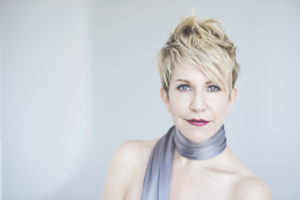 46th Istanbul Music Festival – Review: Joyce DiDonato Brings Bravura & Brilliance To The Bosphorus
By
Jonathan Sutherland
When Dorothy arrived in Oz, she made the memorable comment "Toto, I've a feeling we're not in Kansas any more." Mega diva Joyce DiDonato's first glimpse of the superb 6th century church of Aya Irini in the gardens of the Topkapi Palace in Istanbul may well have elicited the same response. The operatic career of the former Joyce Flaherty from Prairie Village KS (pop. c.22,000) has taken her to many places as magical as Oz, and Istanbul (pop. c.15,000,000) would certainly qualify as one of the most exotic.
DiDonato's "In War and Peace" concert program has already been seen across the globe and the underlying raison d'être of "harmony through music" could not have been presented in a more appropriate setting. In its two and a half millennia history, Byzantium/Constantinople/Istanbul has seen more than its fair share of conflicts, many of which resulted in horrific loss of life and irreparable consequences for Western civilization.
No Need for a Production
DiDonato's very personal staging of the "In War and Peace" show goes way beyond the American mezzo's miraculous musical skills, as well as the traditional recital format. The inclusion of slightly bizarre costuming and make up, lighting changes more suitable to Eurovision Song Contest, mediocre choreography and quirky instrumentalist interaction was at best novel, but more often downright distracting. DiDonato is definitely not an artist who needs peripheral fripperies to enhance her performances as her inherent musicality and exceptional articulation of the text makes any kind of directional diversion essentially redundant.  Even before the excellent Il Pomo d'Oro orchestra appeared, the soloist was seated on stage dressed in a flamboyant ruched grey ball gown with alarming make-up slashes across her face and neck, looking quizzically at the milling audience as they gawked back at her. As the popularity of baroque music in Turkey is light years away from the general approbation accorded to local crooners such as Tarkan or Sertab Erener, it made no difference to the audience whether DiDonato sang with a Kansas meadowlark on her shoulder or a Hatay hookah under her hoof. This concert was all about her sensational singing – and of course the incomparable setting.
Manuel Palazzo is  an accomplished dancer with a terrific torso and  perfect pectorals, but his choreography and stage movements tended to be repetitive and seemingly without purpose. In deference to the former church setting and Muslim sensibilities (especially as the concert was held during Ramadan) Palazzo was not bare-chested as in the usual W+P staging but wore a semi see-through silvery top over his androgynous long skirt. There was occasional textual relevance such as "Creduto Claudio estinto, a Narciso, e a Pallante fidai troppo me stessa" in "Agrippina," but the Argentinean athlete's flaying arms, pretty pirouettes and distended loping were neither bellicose, benign nor particularly prescient.
Exceptional Music
From a strictly musical point of view, this was an exceptional performance. Admittedly DiDonato has being singing this program with Il Pomo d'Oro on almost countless occasions, but there was still a freshness and exuberance from both soloist and musicians which was both surprising and palpable. The concert opened with a somber but bravura aria from Handel's "Jeptha" – "Scenes of horror, scenes of woe," which is the character Storgè's presentment of very grim things to come. After the short recitative, there was an explosion of con spirito energy with Maxim Emelyanychev leading the instrumentalists from the harpsichord with shaggy hair bobbing and twirling and fingers pounding the thankfully sturdy keys of the harpsichord. DiDonato's diction was impeccable, the upward scales on "raising from the shades below" from a low B flat passed from chest to head voice with seamless ease. Strings were biting and full of raspy marcato. The contrasting 3/8 "while in never-ceasing pain" middle section with long sustained phrases displayed the mezzo's extraordinary breath technique and evenness of tone.
Barely had the final "to the night" been uttered when DiDonato launched into a lesser known work by Leonardo Leo, "Prendi qiel ferro, o barbaro" from his 27th opera "Andromaca." The fortisssimo "Barbaro" and "tormento" were spat with such venom one could imagine General DiDonato disposing of legions of barbarians single-handedly. The soaring roulade on "prendi" before the da capo was dazzling and only the stabbing and impaling gyrations of the sensual  dancer marred the overall excellence of this tour de force interpretation.
The fire and brimstone of "Andromaca" was followed by the much more plaintive and certainly better-known recitative and aria usually referred to as "Dido's Lament" from Purcell's first opera "Dido and Aeneas." Again DiDonato's extraordinary breath control and even phrasing was mesmerizingly apparent. Although the score is marked larghetto, Emelyanychev kept to the customary slower largo pace. The opening "When I am laid" was sung with impeccable pianissimo with the warm sonorities of the ancient church providing a fitting acoustic. "Remember me" was barely a whisper and the top G naturals worthy of a leading lyric soprano, not a mezzo with a phenomenal natural range.
Handel's Favorites
Agrippina is one of opera's least loveable characters and the innately agreeable DiDonato proved how accomplished an actress she is in a riveting performances of "Pensieri, voi mi tormentate" from Handel's opera of intrigue and mendacity in ancient Rome. The opening D natural "Pensieri" seem to float from the other side of the Bosphorus and the infinite crescendo-diminuendo fermata was a triumph of technique and nuanced word painting. Palazzo's groping and manhandling of the mezzo would probably have been fine in an operatic production but seemed a bit odd in the concert setting. The mournful oboe playing by Roberto de Franceschi was much more satisfying.
"Lascia ch'io pianga" is arguably one of Handel's most celebrated arias, and even though not sung by a major character, is the musical highlight of "Rinaldo." So many singers have interpreted this scena with varying degrees of sensitivity or schmaltz it is difficult to imagine an original reading. Unsurprisingly DiDonato rose to the challenge with her flawless vocal technique and supreme musicianship. There was commendable restraint about the interpretation with a welcome avoidance of distorting the cantilena. The largo tempo was languorous but not lethargic and Pomo d'Oro's accompaniment a model of sensitive collaboration. DiDonato's delivery displayed a rich caramel evenness of timbre and a luxurious legato smoother than a Safavid silk kilim. The mezzo's nuanced word painting on "sospiri" was but one instance of outstanding textual sensitivity. The pristine trills on "pieta," exquisitely gossamer top F and G's on "de' miei martiri," tasteful ornamentation in the da capo and filigree short downward scale on the final "sospiri" all enforced the mezzo's reputation was one of the most impressive vocalists singing today.
Peace At Last
Peace came in the second half with Purcell's "They tell us that you mighty powers" from his unfinished "Indian Queen" and Handel's lesser-known oratorio "Susanna" which is probably best remembered for the aria "Crystal streams in murmurs flowing." Dressed in a slithering silver sheath and milder makeup to match the heroine's  allure, the American mezzo continued to make an arresting visual impression. Again DiDonato's diction was superb although Purcell in southern Asian mode is probably not the apex of his musical compositions. The adagio change on "Cool the noontide's raging power" in the "Susanna" extract was scrupulously observed and trilling ornamentations lullaby lilting. Baroque flutes and rustling strings in semi-quaver thirds completed the gentle accompaniment and DiDonato shaped the mostly pianissimo melodic line with her customary elegance and taste.
The bucolic mood continued with "Augelletti, che cantata," again from Handel's "Rinaldo." This time DiDonato was playful with Anna Fusek's virtuoso baroque recorder obbligato and stood next to the other flute players like a pastoral Papagena, while Manuel Palazzo was curled up on the floor with a feline furtiveness as if about to pounce onto the chirpy budgie. There was charming vocalization throughout and the synchronization of voice and winds was as gentle as the zefiretti in Almirena's text.
The allegro agitato of "Da tempeste il legno infranto" from Handel's "Giulio Cesare" was perhaps more suited to the "War" section, but its dénouement about a torn heart finding solace warranted inclusion into the "Peace" portion. The leaps, runs, top A's, trills and rapid semi-quaver roulades were DiDonato back in coloratura stratosphere, and there were vocal pyrotechnics aplenty, including an extemporized extended G sharp trill before the da capo which was filled with even more fiery fioratura than before.
This seemed a mere hors-d'oeuvre in comparison to "Dopo Notte" from "Ariodante" which followed in the original key. Low D's on "Funesta" had a rich plumminess, trills on "sole" and dazzling ornamentation on "di gioia empie le terra" were all stellar and the rolled 'r's' on "afferra" testified to an Italianness which went way beyond the mezzo's married name. Despite a lot of other singers bringing "Ariodante" back into the operatic mainstream in recent years, DiDonato is unquestionably the prima Ariodante assoluta.
If that wasn't enough vocal fireworks from the diminuitive singer, a lesser known work by  Niccolò Jommelli "Par che di giubilo" from "Attilio Reggolo"  concluded the printed programme. Jommelli wrote over 60 operas and despite being considered as important a reformer as Gluck, most of his music has been forgotten. DiDonato's ornamentation seemed effortless, but the precision of the trills on "respire", the refinement of the roulades on "mi balzi il cor" and pingy upper register is only possible with for a singer with a peerless technique and masterful musicality.
Tomorrow
After a slightly gushy heart-on-sleeve speech about the importance of peace and harmony in the world, DiDonato jumped several musical centuries and gave an encore of Richard Strauss' "Morgen" which is as wrenchingly lyrical an affirmation of hope as one can imagine. While DiDonato was flawless in her phrasing, with a particularly beautiful shaping of "Wogenblauen," first violin Zefira Valova was noticeably not so pristine in intonation. On the other hand baroque archlute player Simone Vallerotonda displayed sensitive virtuosity in his interesting transcription of the original orchestration. "Auf uns sinkt des Glückes stummes Schweigen" was certainly the feeling in the ancient Church of Holy Peace, and Joyce DiDonato's "In War and Peace" came to a deeply affecting conclusion. The combination of a superb artist singing marvelous music in a unique setting of timeless significance was certainly much appreciated and there was no shortage of Kleenex's coming out of pockets and purses.
With fears of terrorism, political disquiet, dwindling tourism and increasing antagonism in some political quarters to anything overtly Western, the 46th Istanbul Music Festival faced obstacles inconceivable to any other musical organization. Concerts of this caliber, which for once actually deserved the hyperbolic appellation "unforgettable," are testimony to the excellence of this Festival and the determination of its remarkable Director Yeşim Gürer Oymak. In program comments by international figures ranging from Riccardo Muti to Donna Leon about how they deal with chaos,  Gürer Oymak spoke of her own way of finding peace in silence and solitude and getting lost in dreams.
It seems that another gal from Kansas brought Dorothy's dreams to mystical Byzantium – at least for one truly magical evening.