VOCE NOVA – How Tenor Gilad Paz & Soprano Natalia Tsvi Have Found Success As a Crossover Duo
By
David Salazar
As a child growing up in growing up in Tel Aviv, soprano Natalia Tsvi loved to sing. She was part of the Neighbors of Chich as a teen, an ensemble with which she performed a lot of music, including classic covers and original musicals all over Israel.
For tenor Gilad Paz, it was much the same. He grew up in Ra'anana, Israel and started doing pop covers with kids and youth groups in his youth.
Singing would never leave them, becoming even more important as they grew into young adulthood.
Paz's family moved to Long Island, New York where he started engaging with the high school choir and first started to really sing classical music. He was midway through his compulsory army service when he decided that he was going to take on singing in New York City. But he opted to take on studying opera with the aim of being the "best rock singer I could be," he told OperaWire.
Meanwhile Tsvi's high school voice teacher told her that she should pursue a path in the opera world with the voice that she had.
They both pursued that path. And then it brought them together.
VOCE NOVA is Born
It was February 2018 in New York City and the two singers found themselves at a house concert of opera hits. Then they got talking and discovered their similar backgrounds and passion for singing popular music.
They also realized that the two had recently recorded and produced crossover projects that combined opera and rock singing.
They decided to join forces.
"After a very successful concert, where we found out that we have amazing chemistry on stage and a similar dynamic way of connecting with an audience, we started thinking about what kind of show we can create together in order to get our style, message, and uniqueness out there," Paz noted. "VOCE NOVA was created in the spring of 2018, and is our way of combining Natalia's expertise in pop music, my fluency in rock classics, and both of our knowledge of opera and the voice, to create something new and unique geared especially towards corporate events, gala dinners, fundraisers, and private parties."
But the two knew that if they were going to take on the project, they were not just going to improvise their way to success.
"Many artists start by creating a show and then thinking about how to market it to potential audiences," Paz noted. "We decided to do it the opposite way and started by thinking about who our audiences will be and who will be booking the show, and then based our repertoire decisions and program around it."
But just having a concept and a means of executing wasn't going to automatically lead to strong success. They needed to actually have a means of implementing it and as with all productions, you need a figurehead to guide it from vision to reality.
Enter Assaf Averbuch.
Paz met Averbuch during his time in the military with the two working together as band mates. He had experience as a performer, a music producer, creating arrangements and backing tracks for some of the biggest events and venues in Israel and abroad, as well as producing albums for top Israeli artists. In other words, he was the perfect fit for VOCE NOVA.
The only real setback was that Averbuch was located in Israel, so the working relationship would have to be remote. The two parties would send tracks and recordings back and forth for several months, and yet, the experience proved solid throughout.
"He truly understood our ideas for combining opera with popular music, and brought in his own touch and expertise to complete the musical identity of the project," Tsvi told OperaWire.
From there VOCE NOVA would have an arduous path toward selling the concept to potential collaborators. But the team was more than up for the challenge, reaching out to agencies, production companies, event planners through a myriad of different strategies and events.
"We [would] reach out to them via phone, email, social media, even postcards, to try and get them to listen to our product, meet with us or have a phone conversation, and give us a chance to impress their clients and their guests," Paz added. He also noted that their experience as opera singers gave them the tools to manage this process. "In a way, this is not dissimilar to the experience of trying to get heard by opera companies and YAPs (just multiply the numbers significantly), so our experience from years of auditioning helps us keep going and trying again when we don't get the answer we want."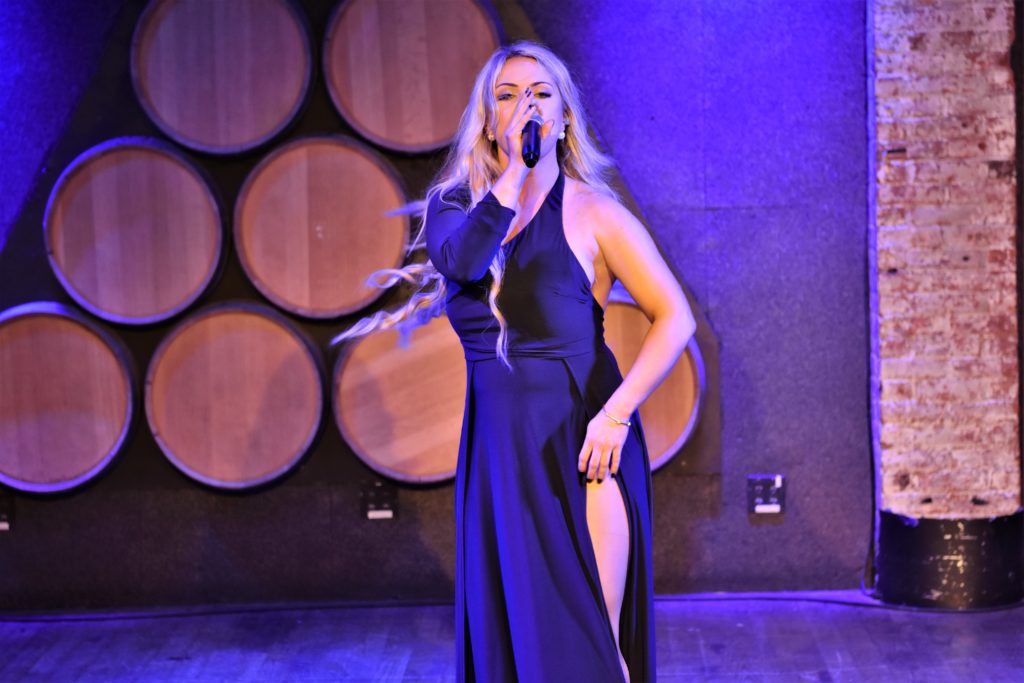 Magical Duo
From their very first performance together, the chemistry between Tsvi and Paz has been instant and electric.
"Until I got on stage with Natalia I had a hard time finding an opera singer partner who sounds natural singing popular music and also knows how to give an audience the same type of high energy and attention that I give as a performer," Paz related. "This makes our on-stage partnership really special, and the reason why I knew I wanted to work with her after the first house concert we sang together."
"I don't have any siblings, but Gilad is truly my chosen brother," Tsvi added. "The first time we met it was like we've known each other for years, and it felt like home. He always understands me, even when I can't articulate what I'm thinking, and he is the perfect complement to me as a friend, as a business partner, and as a performer."
The two noted that they complement one another with unique skills. For Paz, Tsvi is the creative people person.
"Honestly, just walk with her into a room full of people and you'll see what I'm talking about," he noted. "She also opened me up to new ideas and allowed me to explore musical realms that I haven't before, in other areas of my career as well, and for that I am thankful."
For Tsvi, Paz is, in many ways, the motor who spurs them on.
"Gilad is honest, direct, and passionate about what he does, and has this inexplicable way about him that combines drive, commitment, and pure heart," she noted. "There's no gray area with him, and when he decides to do something he's all in with a 'hell, yes!' attitude. Sometimes as artists we all doubt ourselves, so having someone there to remind you of your worth and to pull you forward with them on this artistic journey is something special."
Taking Off
The combination has proved a major success with the duo performing at major high-profile private and corporate events such as fundraisers and galas over the past year. But the most fun they've had has been in smaller and more intimate settings.
"Our greatest memories have come from our performances at open mic nights when we were just starting out and looking to get these songs up on stage and in front of an audience to see what kinds of reactions we would get," the duo noted. "It was amazing to walk into a dive bar in Brooklyn or a back room of a lounge on the Lower East Side, listen to slam poetry and rap artists, and then go up on stage and sing opera with a high energy performance that had everybody freaking out! For us, to see this crowd enjoying the show and reacting to these operatic voices created by the human body, was truly exhilarating and the ultimate proof that this would work for any audience."
The repertory doesn't hurt. Tsvi and Paz have taken on some major arias and songs with unique beats. For example, there is an arrangement of "Libiamo" with a Moroccan beat or "Nessun Dorma" paired with "We Are the Champions." There is also Sia's "Titanium" with a fully-orchestrated track.
"This project is everything I believe music should be," Tsvi added. "There are no rules, there is no 'right way' to do it, and its focus is on expressing ourselves as artists without apologizing for it. If we feel like dancing, we dance. If we feel like belting that high C, we belt it. If we want to bring a middle-eastern flair to an operatic number, we do it! I believe that we need more of that and fewer rules in this art form, and it needs to speak to people at eye level in order to connect, and not make them feel as if they are beneath it."
Paz feels that this kind of artistic risk-taking is essential to the world of opera and its integration into mainstream culture.
"It's like we are a gateway drug to the world of opera for people who may never have been exposed to it before," he noted. "Whenever we perform at an event people are blown away when they hear a live opera singer. Sure, they may have liked an opera act on America's Got Talent, but we always hope that hearing and watching an opera singer performing live in front of them would inspire them to go and check out a local opera production for themselves. Natalia and I are big supporters of local and regional opera companies as there are so many great artists outside the big opera houses that deserve to be heard, and should be heard. By bringing a different angle to the performance of opera, VOCE NOVA can change people's perception of what opera is, or is not, and what it can be."