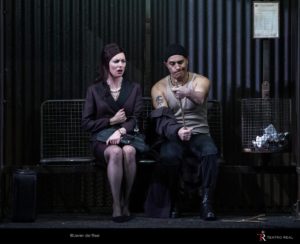 Teatro Real 2020-21 Review: Don Giovanni
Christopher Maltman & Erwin Schrott Lead Musical Tour-de-Force in Claus Guth's Troubling Production
By
Mauricio Villa
This review is for the performance on Dec. 8 and featured Maria Jose Moreno's first performance in the role of Donna Anna.
Claus Guth, the stage director, is famous for his scandalous and modern productions. He certainly did not disappoint with his approach to Mozart's "Don Giovanni," which was presented at the Teatro Real 15 times throughout the holiday season.
What the Madrid audience got with Guth was the expected AND unexpected. Expected in the sense that knowing his previous work, it was no surprise what this production would amount to. Unexpected because it was definitely not what one might think of with regards to one of the most renowned operas in the canon.
So let's unpack this a bit.
A Provocative Production
Guth set the action in a ghostly hyper-realistic forest on a revolving stage that was amazingly illuminated by Olaf Winter. It was a setting that felt more appropriate for a slasher movie than Mozart's drama giocoso, as you have the impression that a maniac with a mask and a chainsaw would appear at any moment. As a theatre show the result is amazing. Despite the gimmick of the revolving sets being used excessively — at times it looks like a forested merry go round — the production has rhythm, constant action, the explicit presence of characters taking drugs, and a clever solution for the ending. And the sets really are beautiful.
How much of this production, the question begs to be asked, represents Da Ponte's "Don Giovanni?"
The answer is: none at all.
When I see these kinds of productions I ask myself: will someone for whom this production is their first experience of the opera understand the plot? And in this case, the answer is no.
They will leave with the impression that "Don Giovanni" is a poor person who is fatally wounded by a gunshot during a fight, and that, with the help of his stuttering and drug-addicted friend, he gets to experience some adventures while drinking beer compulsively, before finally meeting a ghostly gravedigger and dying upon the grave that he is digging. Everything else is unimportant, as the protagonist is too weak to really seduce women.
So this production is the result of a dramaturg's bright and flawed idea: a figure has been created that should not exist in opera because a dramaturg is inserting themselves into an already-written libretto. The job of a stage director is to explain the opera, both physical and emotional, to the audience, not invent a parallel story.
The incongruencies with the libretto are, as expected, thousandfold. Guth has simply ignored what the libretto says and told his own story. If you know the opera, or you are reading the subtitles, you see that what you read and what you see are two different things. The production is so detached from the opera that if one followed the director's dogma one could use this set to do every opera from Haendel to Verdi or Wagner. By ignoring the actions and sometimes even emotions of the libretto this has become a director's representation of their own ideas for an opera–and it could be any opera–set in a rotating forest.
It is visually-arresting theatrical work but unrecognizable as "Don Giovanni."
Of course, some experienced opera-goers might find this to be exciting and interesting. But at the same time, it begs an existential question about opera and its future. What Mr. Guth thus says in his interpretation is that Mozart and Da Ponte's "Don Giovanni" means nothing and that only HE, Claus Guth, can give it meaning. In essence, instead of seeing the works as complex and transcendent works of art, this approach misinterprets them as blank canvases on which anyone can paint whatever they want.
But more problematic still is that if the canon can simply be rewritten and reshaped time and again to fit the director's own agenda and narrative, then it essentially discards the need for new operas to be written. Why bother creating new works when we can just recycle the old AND popular stuff and draw all over it? The financial benefits are clear for companies, but the artistic merits and development of the art form are the cost.
Of course, this is not a new conversation, especially when you consider that Guth's production is over a decade old. And while we are entering a phase of opera where the vitally of new opera is stronger than ever, the revival of such productions reintroduces those questions about what they mean in the larger sense.
One of the Best Around
Christopher Maltman, who sang the title role, has made this character one of his signature roles and has sung it in countless theatres around the world. He performed the role for the premiere of this production at the Salzburg Festival in 2008, and is no stranger to the part and the staging: this was incredibly clear during this powerful performance.
The control he has over the role is mesmerizing; he makes singing it look easy, even though the role is just the opposite. It is difficult to classify the ideal voice for Don Giovanni. It would ideally be a bass-baritone, as the tessitura is too high for a bass but at the same time is too low for a baritone: it does not go higher than E, even if Maltman interpolated a high A natural during his last scene.
Maltman's use of dynamics and vocal colors is never ending – he can sound menacing, amorous, seductive, dangerous, sarcastic, and humorous. He controlled the recitatives, making them sound natural and organic. He showed off his long legato lines and the use of mezza voce during pieces like "La cidarem la mano" or "De vieni a la finestra." Maltman is probably one of the best Don Giovannis on the operatic scene.
He is an excellent actor too, excelling in all the hard demands of the staging, including playing himself as mortally wounded, pouring a beer over his head, playing drugged and delirious, and jumping and running all over the mountainous set. It was sad that we could not see the iconic seductive lover, but he performed as he was directed excellently.
To the Extreme
Erwin Schrott, the Uruguayan bass-baritone, played Leporello and is famous for his acting abilities, which he took to the extreme in portraying the stuttering drug addict, full of ticks and hyperactivity. He infused so much energy into the role that all eyes were on him whenever he appeared on stage, even if he was not singing. This is something that the revival stage director should have controlled, as Schrott's actions stole the audience's focus and he appeared as if he were the only protagonist in this choral opera.
His voice is a gem: dark, round, big, with strong high and low notes. His diction is immaculate while singing a fast parlato, something that this role demands frequently as he is supposed to be a buffo character (though he decidedly is not in this production). The catalogue aria "Madammina, il catalogo e questo" was the highlight of his performance, which he sang with amazing security and a tremendous variety of colors and vocal dynamics, receiving the first big ovation of the night.
Spanish soprano Maria Jose Moreno sang the role of Donna Anna. She is no stranger to "Don Giovanni" having sung Zerlina in the 2005 production at the Teatro Real. Back then Moreno was starting her career and her voice was much lighter. Her voice has grown since and has become darker in the middle register without losing her upper register. Her timbre has always been of extreme beauty, round with a velvet quality and she appeared extremely comfortable singing a part that required something much lower than what you would usually expect from a voice such as hers.
She displayed clean coloratura during the few quick scales that she has on the sextet in Act Two and the second part of her aria "Ah, non mi dir," as well as two soaring ascensions to B flats in the short Terzeto in Act One. In light of a performance such as this, it is strange that this soprano has not gained more international attention.
Anett Fritsch, who played the role of Donna Elvira, is no stranger to this theatre or the Mozart repertoire as she has sang five roles from the composer. Her Mozart style is consequently impeccable: a clean attack of the notes, perfect pitch, long phrases in one breath, the use of dynamics and mezza voce, and all this with the voice completely exposed by the thin orchestration. Donna Elvira, like Donna Anna, has some coloratura passages too, but they are more dramatic than Donna Anna and therefore less florid. Fritsch's round and focused sound changed when she went into the upper register at first: the sound spread and the notes became strident, pushing even the two B flats of her first aria "Ah chi mi dice mai." Her interpretation of "Non mi dir," however, was excellent; maybe because her voice had warmed up.
Mauro Peter sang the role of Don Ottavio with a gorgeous voice and beautiful style. His role was cut short with the omission of his second aria "Il mio Tesoro." As a result, the role was reduced to some ensembles and a single aria, "Dalla sua pace." "Dalla sua pace" might be one of the most difficult arias in the Mozart repertoire as it does not go higher than G. Not only is it written continuously in the passagio zone but demands a sweet timbre which is quite difficult to achieve in that tessitura. Peter sang the aria incredibly with a clean onset and showcased a great contrast between fortes and pianissimi. He also displayed an exquisite mezza voce and excellent breath control. It simply could not be better sung.
German bass Tobias Kehrer sang the short but important role of the Commendatore and he had everything one would expect from this role; a big dark basso profundo voice and an imposing timbre that fills the hall. Kehrer's interpretation was made even more special by his clear diction and his attention to the text.
Louise Alder and Krzysztof Baczyk accomplished their respective roles of Zerlina and Masetto with great style, terrific voices, and strong acting.
Ivor Bolton is a Mozart specialist and this marked his fourth Mozart opera at the Teatro Real. His expertise in the repertoire was evident as he found a perfect balance between the instrumentalists and his soloists. He gave emphasis to the wind section, something which is often present in Mozart's compositions.
But it is not clear which version of the opera he chose, as Mozart debuted the opera in Prague and then did a revised version for Vienna months later. It appears that Bolton selected the Vienna version as the tenor sings only the first aria "Dalla sua pace" written for Vienna, as the original tenor found "Il mio Tesoro" too difficult to sing and had Mozart remove the song.
But Bolton did not include the new written recitative and duet between Leporello and Zerlina, and decided to end the opera with Don Giovanni's death, cutting the whole following number, which is far more dramatic and sincere. Bolton generally chose slow and pesante tempi, something that I am sure Maltman was very grateful for during the champagne aria. The sound of the orchestra was powerful and emotional under Bolton's hand.
Ultimately, if you could ignore what Guth's production meant both literally and symbolically, you were able to enjoy a musical tour-de-force led by Maltman and Schrott.