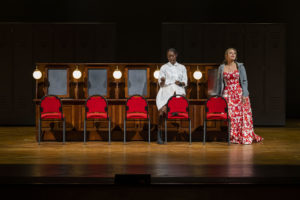 Opéra National de Paris 2022-23 Review: Le Nozze di Figaro
Despite Solid Cast, Netia Jones' Production Undercuts Mozart's Masterpiece
By
João Marcos Copertino
(Credit: Charles Duprat / Opéra national de Paris)
(This review is for performances on November 25 and 27)
Netia Jones' staging proves how much an ill-conceived mis-en-scene can affect the music, even when it is Mozart.
In Portuguese, we say that Mozart's music must be as a perfect and smooth as a rare pearl. There is even an adjective "perolado" (pearled) to denote this inner quality of playing Mozart without any groove or joint. Until recently, I thought of this quality as inherently musical, but after seeing Netia Jones' staging, we have to accept that its implications are broader.
Few artistic partnerships were as successful as da Ponte and Mozart's. Their operas are music and text in perfect symbiosis. "Le Nozze di Figaro," an adaption of Beaumarchais's widely popular play, is a showcase of how great their work could be. The opera might be even better than the play, which is quite something given how good Beaumarchais's play is.
In many ways, "Le Nozze" touches on many topics that resonate with preoccupations of our contemporary moment: sexual abuse, gender discrimination, social class tension, etc. Netia Jones' feminist take, on paper, should make sense. In a #metoo era, Mozart and Da Ponte's opera maintains its relevancy. However, the result in this production, however, is rather unexciting.
A Disappointment
Netia Jones has transferred all the action to today's Opéra Garnier. It is a theater-within-the-theater staging with many things happening simultaneously: Figaro sings his "Se vuol Ballare" while the Count himself grooms a ballerina to receive his abuse. The Countess sings her "Porgi Amor," and, next door, another singer auditions for a role singing the same aria as the count.
All the ideas emphasize the abuses of political and personal power by the Count, who may be a singer or impresario. It is all well-intention. But, to quote another Portuguese expression, "the road to hell is paved with good intentions." It is as Jones felt that Mozart and Da Ponte needed some help to get their message out there, whereas they have in fact done a pretty great job on their own.
Moreover, Jones managed to void most of "Le Nozze's" witty comedy. The opera now is about abuse; thus it cannot be funny. The few moments that actually elicited some laughs from the audience were precisely the scenes in the second act in which there were no parallel unwritten subplots. The singers, then, act as they would in any other staging of the opera, and, unsurprisingly, it works.
To make Comedy work requires more technique than drama. Timing, stage presence, and confidence are essential. Jones weakens the comic effect by exposing her singers unnecessarily. They were subjected to needless stripping on stage, and complex stage choreography.  In the two performances, Sophie Koch, a good actor, missed her light marks during the third act sextet…
Not only is most of the comedy gone, but also the female personalities are weakened. The Countess is the saddest figure; she is even tempted to kiss Cherubino after he sings his love song. The focus on the abuser, with little effort to make him ridiculous, makes him the center of all attention and takes away much of Susanna, Barbarina, and even Marcellina's agency.
There is a major problem underpinning Jones' work: a difficulty in dealing with social criticism that is not pornographically proselytist. Mozart and Da Ponte were figures of a very different time, but the strength of their critique remains because they endow their characters with complexes psyches. Despite their oppression, they experience desire, loss, and deception in complex ways.
Emptying most of the opera of psychological innuendos and at the same time voiding the opera's foregrounding of the ridiculous, while filling the stage with parallel dramaturgy, weakens "Le Nozze's." And it shows some political shortcomings of how we deal nowadays with non-simplistic approaches to oppression and desire. What makes us so afraid of Mozart and Da Ponte's operas?
It is not just a matter of being against modern takes or productions; quite the contrary. Paris Opera has managed to bring new takes to "La Boheme" and "Salome" that, even though out of the box, do unveil much of the operas' psychology. However, in modern production, we cannot throw out the baby with the bathwater.
A few musical moments, however, might have been enlightened by Jones's rendering: in the end, when the Countess forgives the Count, she also hands him her wedding ring—as if she has become a character who will now finally enjoy her single life, as in "Unmarried Woman." Although possibly a bit pathetic, it was a way to stress the bitter sorrowfulness in Mozart's melody.
Negatively Affected
Much of the singing is affected, negatively, by the staging, and little attention was paid to the text. In fact, sometimes the Italian was impossible to understand. More than a fault of one or another artist's skills, this was a sign of poorly focused direction. All these singers have performed their parts elsewhere with much more success. So, the problem was, undeniably, the Paris production itself.
Miah Persson's Countess was a tragic figure. She is a skilled performer and can gracefully carry the coloraturas in the second act's trio—which is sometimes sung by Susanna. Her "Dove Sono" might be deemed too sad, but I think that is more the fault of the staging than of her. I particularly enjoyed her lower range in her duo with Susanna during the "Canzonetta sull'aria."
Few singers have a wider range and more colorful possibilities than Jeanine de Bique. Her voice has enchanted many in the baroque repertoire, and recently in Weber and Mozart. Compared to her 2021 "Alcina," Bique's beautiful tone, however, did not project well in Palais Garnier's acoustics. She glowed in "Deh vieni a non tardar"' a cappella, obtaining a rave applause.
Luca Pisaroni might be the most requested Figaro nowadays. His Italian, obviously, is well-pronounced, and his Figaro is strong and witty. He does struggle with his higher register, though, which somewhat compromised his otherwise great "Si vuol ballare, signor Contino." His best moment, however, was the fourth act aria.
Gerald Finley was significantly more central in this production than usual. His characterization as a Harvey Weinstein type enabled him to showcase his abundant musical and dramatic capacities. He efficiently embraced the character's white man entitlement in "Vedrò mentr'io sorpiro." Otherwise intentionally inflexible, Finley tenderly phrased his "Contessa Perdono."
Rachel Frenkel's Cherubino dresses in an orange sweatshirt on which is written "narsicetto" in stylized letters. It was a fun touch, but I wondered how narcissistic her Cherubino could really be in this production. Although Frenkel's "Non so più cosa son" was solid, she shone in a "Voi que sapete cosa è amor," which actually seemed to understand much of the countess's soul.
Ilanah Lobel-Torres sang a breath-taking "L'ho perduta" that, in this staging, is an aftermath of her abuse by the Count.
And Sophie Koch is, perhaps, too much of a singer to solely be Marcellina. She did not, unfortunately, sing her fourth act aria—some of the recitativo lyrics were, nevertheless, projected onto the stage as a silent entr'acte.
The orchestra under the baton of Louis Langrée, for the most part, sounded good.  There were, however, some minor issues at the ends of arias. Miah Persson's beautiful piano at the end of "Dove sono" was not matched by the pit, and the horns in "Aprite un po' quegl'occhi" were never fully in tune.
The Mozartian "pearled" feature, indeed, was missing. That is a pity. Few operas are staged in the acoustically superior Opéra Garnier, and the cast had some of the best Mozart singers of this generation. Maybe Jones' staging could work better with some few changes, for there were indeed some promising insights. If that happens, I will do my best to be there.