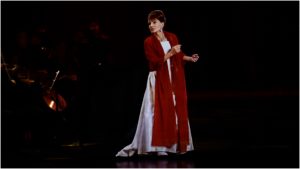 Bringing Maria Callas Back to Life – The Team Behind 'Callas in Concert' On Creating A Hologram Of 'La Divina'
By
David Salazar
What was it like to see Maria Callas?
There are still many that can recall the experience of seeing the great diva take the stage, but there will come a time when they will no longer be around.
Many are already resigned to watching old videos or listening to old recordings, but there are some that have different ideas. In fact, their ideas involve bringing her back. Almost.
Enter the BASE Entertainment , that specializes in technologically advanced entertainment. For 35 years, the organization has worked with such major companies as Sony, the Shakespeare Globe Theatre, the National Space Center, and the National Army Museum in the UK, among many others. the company created a spin-off organization, BASE Hologram, which was launched in January precisely to bring together a new series of projects – including "Callas in Concert."
"With Maria Callas, she was and still is, 40 years after her passing, the definitive name in opera and the original diva with a complex and extraordinary life story," BASE Entertainment CEO and Founder Brian Becker. "Her contributions to the music field are nothing short of groundbreaking and she was equally influential in the areas of acting, stage design and fashion which made her an ideal choice. We want this production to appeal to new generations who may not have known much about her and also to opera lovers who are familiar with her legacy."
Expectedly, it wasn't easy. The concept wasn't just to use archive footage of Callas and bring it to life with an ensemble; the concept was to bring her back based on what was known about her.
"I also want to clarify these tours are not created using old footage and recordings," revealed  Marty Tudor, Executive Producer and CEO BASE Hologram Productions. "Great care and precision are taken to create a realistic and convincing hologram so fans both old and new can suspend disbelief during a production, allowing the hologram to take on an ethereal attribute. This is brand new proprietary technology and if we didn't have this type of groundbreaking technique at our disposal we wouldn't be doing this. If we can't honor the spirit and legacy of these performers we would be doing everyone a disservice."
The result? Just watch for yourself.
Bringing Callas to Life
So how did they pull that off?
To ensure a realistic creation, the team brought in Stephen Wadsworth, who has directed a number of major opera productions around the world and also runs the post-graduate opera training at The Juilliard School.
Wadsworth worked closely with a "body double" before a single image was photographed. Per Tudor, that process was approximately 12 weeks of rehearsal and choreography.
"Every minute in Callas' company is gold," Wadsworth enthused. "The longest stretch was the detailed work with the actress on how to play Callas during the concert. She is three people up there – the private Callas; Callas the public figure; and Callas as the character she is embodying in any given aria.  And those three people are all struggling. So it was an intense and lengthy process.
"We worked on Callas' gestural language, how she held herself, her physical life, down to how and when her fingers moved, and her symbiotic relationship with her gown."
One particular aspect that interested Wadsworth most was Callas' interaction with the audience. Her stage presence is legendary and it was this ability to dominate onstage that made her so enthralling and memorable to those who witnessed her live.
"Her relationship with the audience encapsulates her temperament – now hot, now cool, blazing, heartbreakingly vulnerable, charming, fierce, alluring – and these qualities must be flowing in her all the time, during the scenes she's playing and before and after the singing," Wadsworth noted. "Our team was remarkable, nobody more so than Callas herself.  I think it actually might be Callas up there – the people next to me in the audience are convinced it's old footage of her!"
Once the body double was ready, she was recorded doing all the gesturing throughout the diverse repertory choices. Then came the editing and use of advanced technology to bring Callas to life. As Tudor noted, the technology employed had never been utilized prior to BASE's projects.
"Many people who have used holograms for performances in the past have used a technique called 'Pepper's Ghost' which BASE does not use. That technique actually has ties all the way back to vaudeville and while it does the trick, it does not hold up as well by today's standards,' Tudor noted. "We are also very fortunate to have a sponsor like EPSON which has really embraced this technology and has been a valued partner."
But the technology is not only limited to Callas' appearance. The actual voice that materializes out of the hologram is also the result of state-of-the-art engineering.
"Keep in mind that back when Callas was recorded, she was not in a separate room from the orchestra," Tudor continued. "Now, for the first time the technology exists for the vocals from original recordings to be separated from both the orchestra and other singers. From there it's marrying that audio with digital and laser imaging, CGI techniques and our trademark brand of showmanship. As an aside, when we were separating Callas' voice from the orchestra there were times it was difficult to decipher her from the instruments due to her 'perfect pitch.'"
Poetically, the entire creation process took nine months.
Dealing with Critics
The Tour gets underway this September, and October in North America with a few dates set for Europe in late November and early December.
And as expected with this kind of project, there are some skeptics.
NY Times Critic Anthony Tommasini, for example, noted in his review of the preview performance in New York that he was confused about the intentions of the "spectacle" and its "intended audience."
"Like so many now, I loved her without ever seeing her live; this holographic specter was weirdly tantalizing, even if it hardly made up for that," he wrote.
Others might question the morality of "bringing back" an artist and even recreating her in every aspect.
But the team is not worried in the least.
"Our productions are meant to be a tribute to these musical legends. We are honored that the families of these beloved performers have entrusted us with their legacies and it was a fantastic experience working with them. We wouldn't want to do this without having the families/estates on board as collaborative partners," Tudor noted. "As you can imagine, these projects are deeply personal to them and that close relationship is invaluable to the show's authenticity. One of the most important elements of this type of production is remembering that we are putting on a show, not just presenting a reproduction of someone in concert.  In realizing the production, we are extremely cognizant of being entertaining without sacrificing authenticity."
"Personally, I've been in this space for over 30 years and I can tell you the market is prime to experience the magic and allure of mixed reality and holographic live entertainment. However, live music and theater is as popular as it has ever been, and what we are doing is adding opportunities for audiences to see new and exciting projects, expanding the offering in the exciting live entertainment space," Becker added. "What is great about this technology is that it can be enjoyed together as a communal experience which is the basis for all entertainment.  This technology allows us to bring both old and new artists to the stage and offers many a chance to experience a production they might not otherwise had an opportunity given past traditional and structural limitations due to cost."
Becker is not only excited about these projects, but about what could come in the future. The team recently revealed an upcoming project that will bring back creatures from a millennia ago.
"We recently announced we are creating a traveling dinosaur exhibition with Jack Horner, who is the lead scientific consultant and paleontologist for the 'Jurassic Park/World' films," he revealed. "We are currently in talks with the estates and families of many well-known personalities and hope to share more projects soon. Honestly, it's hard to put a number on it because the possibilities here are endless. Our repertoire will include single artists, multiple artists, theater and other spectacles. We can do similar type of amazing experiences with scientists, politicians, chefs, athletes, natural interest topics, and animation among others."
And what about other opera singers?
"Yes, but everything is very early stages right now. As soon as we can make it known, we will reach back out," Becker concluded.