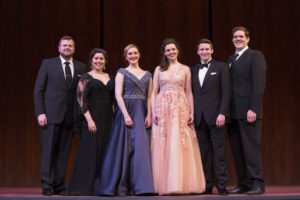 The Best Moments of the 2017 Metropolitan Opera National Council Auditions Grand Finals
By
James Monroe Števko
As Renee Fleming entered from stage right, she garnered a low wave of astonishment from her shimmering silver dress and matching blue shimmering shawl. Taking to the podium, she began to explain that for many aspiring singers, the results of the Metropolitan Opera National Council Auditions competition would propel their careers. For her, it took 3 times before winning (she even joked that it took just as many times to pass her driving test).
Last week's semi-finals consisted of 23 contestants, nine of which were chosen to compete in the Grand Finals. At the end, six singers from all over North America would be chosen from the group to be named Met National Council winners.
After all had sung twice, one aria in each half of the Sunday afternoon program, with the house lights dimmed to half, Fleming exclaimed what a decision the judges had on their hands! All competitors indeed gave outstanding performances, with some very out-going aria selections.
However, when all was said and done, the winners of the 2017 Met National Council Auditions were:
Soprano, Kirsten MacKinnon (Vancouver, Canada)
Soprano, Vanessa Vazquez (Scottsdale, Arizona)
Countertenor, Aryeh Nussbaum Cohen (Brooklyn, New York)
Mezzo, Samantha Hankey (Marshfield, Massachusetts)
Tenor, Kyle Van Schoonhoven (Lockport, NY)
Tenor, Richard Smagur (Clarksville, Georgia)
Highlights of the Afternoon:
Soprano Natalie Image of Tsawwassen, Canada, sang the first aria of the competition and sparkled her way through "O luce di quest' anima" of Donizetti's "Linda di Chamounix." Her crystalline tone swirled through the house, sprinkled with immaculate coloratura, a really impressive start to the concert. She was just endearing as she held her hand to her mouth, calling off into the distance in Rimsky-Korsakov's Snow Maiden's Aria.
Richard Smagur's Flower Song, "La fleur que tu m'avais jetée," with a beautifully balanced range throughout, received a healthy reaction from the audience with his legato phrasing and ending with a lingering diminuendo.
Arye Nussbaum Cohen, the victorious countertenor and perhaps the concert's showstopper, is a natural actor who seems to have done his acting homework. In both of his performances, "Pompe vane di morte…Dove sie amato bene?" of Handel's "Rodelinda" and "Dawn, still darkness" from "Flight" by Jonathan Dove, Cohen very clearly envisioned the opera in his head and transported the entire audience with him, so much so that the audience could barely hold back its enthusiastic applause after his final notes.
Stumbling onto the stage with his first words ringing through the house, it was obvious the Grime's Mad Scene "Steady! There you are! Nearly home!" was going to be good. Tenor Kyle van Schoonhoven, committed through the entire aria, held our attention for minutes, and practically alone, the orchestration comprised of a few trombone slides and a brief accordion cameo. A very daring choice for the competition, but van Schoonhoven pulled it off. He followed up in the second half with Rienzi's powerful Prayer, showing off a hefty, rich voice.
Closing out both halves, Vanessa Vasquez brought soprano hits "E strano…Sempre Libera" and "Un bel di, vedremo." A luscious voice, she held her hands close to her cheek as though she could already taste Madama Butterfly's victory.
While soprano Kirsten MacKinnon displayed a dramatic crescendo mid-aria in Tchaikovsky's "Otchego eto prezhde ne znala," her talents really fit the excitement of Faust's "Ah, je ris de me voir", with trills and milky coloratura.
Richard Tucker grant winner Samantha Hankey sang a well-received "Parto, parto," but also moved us with beautiful Russian diction in her portrayal as Joan of Arc in "Da, chas nastal", from "The Maid of Orleans."
Also with Gounod's "Faust" was Bass-Baritone Cody Quattlebaum, laughing his way through "Vous qui faites l'endormie." He was a crowd favorite.
The evening's standout Spanish aria, "Cristobal Es esta luz la muerte?" from "Florencia en el Amazonas," was beautifully paired with soprano Gabriella Reyes de Ramirez, whose dramatic voice and musicality rose with Catán's score, scaling back after each climax to begin the climb to the next.
Prior to the big announcement of the night, three former winners appeared as guests artists: Jamie Barton, Amber Wagner, and Michael Fabiano. All three, with selections expertly chosen from their repertoire, gave virtuosic performances, equal in emotion and vocal prowess. The night concluded with an inspirational finale for ALL of this year's National Council contestants, who no doubt are able to look up to these present-day opera talents as beacons of hope for their newly begun careers, all of them taking their first steps into a new world.