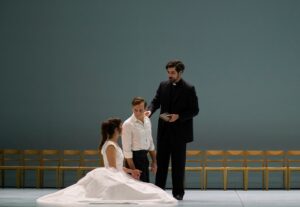 Artist of the Week: Brent Michael Smith
American Bass Makes Role Debut As Frère Laurent in Zürich
By
Francisco Salazar
Last week the Opernhaus Zürich opened a new production of Gounod's "Roméo et Juliette" led by two accomplished French singers. The cast also included one of today's rising stars Brent Michael Smith.
Smith made his professional role debut as Frère Laurent, a role that critics praised for his "soothing bass voice." Audiences around the world were also able to see his debut on Arte.TV and the performance is now available to stream worldwide.
This is the latest role debut for Smith at the Zürich house where he has been an ensemble member since 2021 and where he has had the opportunity of expanding his repertoire. This season alone at the Opernhaus he has debuted the roles of Angelotti, Sir Gualtiero Raleigh, and Prince Gremin.
A winner of the Third Prize in Il Concorso Lirico Internationale di Portofino and a Finalist in The Queen Sonja International Music Competition, among others, Smith is set to continue his season in Zürich for performances of Monteverdi (Ballet) and "Der Freischütz."
Recordings
While Smith does not have commercial recordings, he does have an upcoming recording coming soon! Meanwhile here aresome  clips of him performing from "Simon Boccanegra" and "Eugene Onegin." And here is a video of the "Romeo et Juliette" broadcast.